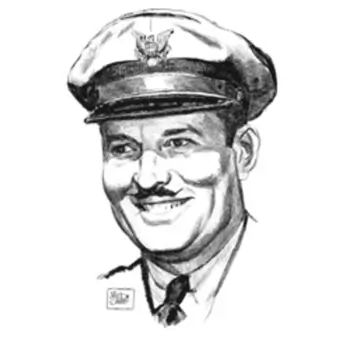 The inimitable Colonel Roscoe Turner became one of the renowned names in early aviation. Colonel Turner was a leader among those aviation pioneers who set new records, thrilled crowds and provided early stimulus to the technical development of aircraft.
Roscoe Turner was born on September 29, 1895. He ran away from home at 16, settling in Memphis, Tennessee, where he worked as a an ice truck and taxi driver and auto mechanic.
Roscoe's attempt to enlist in the aviation section of the Signal Corps just prior to WWI was unsuccessful because he lacked the required two years of college education.
However, after the U.S. entered World War I, Turner enlisted in the Ambulance Corps and served in France. Though he transferred to the aviation section, the war ended before Turner saw combat.
In 1919, Roscoe and a partner formed the Roscoe Turner Flying Circus and for five years flew 'death-defying' aerial performances. Along the way, he purchased a Sikorsky cabin aircraft for aerial teas for society women and airborne radio broadcasts.
Hollywood then beckoned and Turner became a movie stuntman and actor. He had a major role in the Howard Hughes film "Hell's Angels" playing a dashing British airman.
Aided by his Hollywood work, Turner helped launch Nevada Airlines in 1929 operating between Los Angeles, Reno and Las Vegas.  In his pioneering efforts, Roscoe made a Lockheed "Vegas" into a showpiece and proved the practicality of transcontinental passenger service by flying it from Los Angeles to New York with four passengers.
Always an aviation promoter, Turner convinced the Gilmore Oil Company to acquire a Lockheed Air Express and to animate the company's lion head trademark. In 1930 he bought a lion cub and named it "Gilmore." Before long, Roscoe Turner was known to millions as the man who flew with a lion; crowds flocked to see the intrepid aviator and his feline companion.
Col. Turner and Gilmore was an active pair. Together, they set East-West and Canada to Mexico flight records. They also finished 5th in the 1930 Los Angeles to Chicago Derby Race, an event that would mark Gilmore's retirement from flying. After 25,000 miles, the lion became more payload than Turner could afford to carry.
A new era began for Turner in 1932 when he acquired a Wedell-Williams racer to feed his quest for speed. Naming it the 'Gilmore Lion,' Roscoe set a new transcontinental speed record of 12 hours 45 minutes.
In 1933, Turner won the Bendix Race from New York to Los Angeles setting a record that  stood for five years. His success continued with first place finishes in the Shell Oil Speed Dash and the Thompson Race and receiving the Clifford Henderson Trophy as America's number one speed pilot.
In 1934, Turner won the grueling Thompson Trophy.  That same year, Colonel Turner bested 19 rival aviators in the Robertson Race to Australia. Turner and his crew received 1,500 British Pounds  when they landed in Melbourne having flown from England through Athens, Baghdad, Karachi, Allahabad and Singapore on the way. Few knew, however, that the race had cost Roscoe $35,000; it would take him five years to pay off the debt.
1938 brought more success to Roscoe's when he again won the Thompson Race, becoming its only two-time winner.  That same year, he won the Allegheny-Ludlum Trophy for a world record lap speed of 293 MPH.
Turner proved his flying mettle and skill again in the 1939 Thompson Race when he missed a pylon but still managed to win moving from last to first place. While receiving the trophy Turner said, "Make room for the photographers. It's their last chance to shoot me. Racing is a young man's game. I'm 43!"
His racing career over, Turner established the Roscoe Turner Aeronautical Corporation in Indianapolis. When America's entry into World War II appeared imminent, he formed the Turner Aviation Institute to train the flight instructors, pilots and mechanics that the war effort would require.
After the war Turner prophesied, "Aviation is going to control the world economically and militarily whether we like it or not. Airpower is not merely military aviation, it is also civilian aviation and airpower is peace power." Throughout the 1950s and 1960s Turner continued to contribute to the development of aviation through his flight school, sales and service facility at Indianapolis.
Roscoe Turner passed June 23, 1970 and was buried in Crown Hill Cemetery, Indianapolis. He is enshrined in the National Aviation Hall of Fame.
For his extraordinary achievements and pioneering service to aviation, Indiana, the nation and the world, and his service to the country, Colonel Roscoe Turner is inducted into the Indiana Aviation Hall of Fame the 8th day of July, 2020.