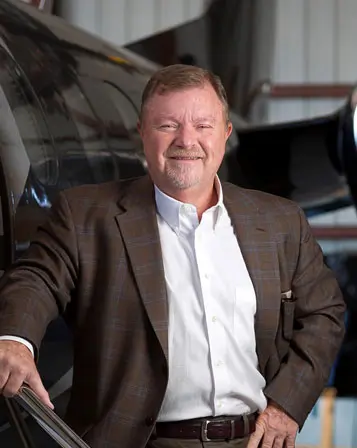 Matt Hagans was born in Indianapolis. His five-decade aviation career began when his uncle, a World War 2 veteran pilot, took him for a plane ride at the Indianapolis Metropolitan airport at age 10. He stayed after his dream to become a pilot by earning 'flying money' by selling shoes for 10 years, becoming a top salesman with the Tom McAnn shoe company while he attended the University of Pittsburg. A glimpse into Matt's future success and drive came when he was named the youngest ever Tom McAnn district manager with 18 stores under his supervision…at age 25.
Shoes were not to be his future, though. Always interested in furthering his aviation world, Matt answered an advertisement from the Cessna Aircraft Company in the Wall Street Journal for a sales manager position. Though he didn't get the job, Matt was hired by Cessna as a production test flight and demonstration pilot. In addition to logging more flight time, Matt saw many parts of the aircraft business while working on the 'flight into known icing' certification for the Cessna 340 twin engine aircraft, as well as the development of the larger cabin-class Cessna 414A aircraft. He would soon move from flight work to the Cessna aircraft sales division where he set single-engine sales records as Cessna's Regional Sales manager in the Mid-South and Southeastern United States.
Despite his success at the corporate level, Matt had a long-term dream of owning his own aviation business in his hometown. That dream came to life in 1984 when Matt purchased Eagle Creek Aviation on Indianapolis' West side. The company began as a Cessna Sales and Service Center with just 7 employees. Soon, however, the company would grow when Matt saw opportunity in the recently orphaned Gulfstream Commander line of turbine-powered aircraft. He took full advantage of the opportunity forging Eagle Creek Aviation into a multi-brand premier aviation company and the world's largest Commander sales, service, and modification provider. His commitment to the Twin Commander community would garner awards and top ratings for service and innovation in keeping the fleet flying safely.
And growth would continue. Eagle Creek and Matt stretched the company's presence further in 2006, reaching into Southern Florida by acquiring Naples Jet Center in Naples Florida.
In 2008, Matt saw more opportunity in the world of corporate aircraft marketing. That year, he teamed with the Embraer Aircraft company of Brazil as a dealer working directly with the company on in the design phase of the Phenom business jet. In a short time, Matt and Eagle Creek Aviation became Embraer's largest and most successful dealer purchasing more than 30 brand new Phenoms and dozens of deliveries of Phenom 100 and 300 aircraft from Brazil and Melbourne to Eagle Creek clients. His expertise in the Embraer series led to his service on development committees for both the Phenom 100 and Phenom 300 aircraft and has been a keynote speaker for Embraer's annual Supplier Conference.
With the acquisition of the fixed-base operations at the Indianapolis Executive Airport and at the Frankfort Airport, in 2015, the small, family-owned business on Indy's west side with 7 employees would grow into a multi-brand premier aviation company with over 200 employees in far-flung locations. During nearly four decades of Matt's leadership, Eagle Creek and its family of companies grew into a preeminent provider of a wide array of aviation services from sales, service, charter and airport management, to national and Indiana businesses and individuals throughout the state.
For nearly 4 decades under Matt's leadership, Eagle Creek and its family of companies would become a leading provider of many aviation services…from sales, service, charter, to aircraft and airport management to national companies, and Indiana businesses and individuals throughout the state.
Matt was also part of the flying family at eagle creek. He continued to fly corporate aircraft in charter and management, earning his Airline Transport Pilot certificate along with several jet type ratings, and an rotorcraft-helicopter rating while logging over 17,000 flight hours.
And living life to the fullest, Matt found time along the way to become a winning Stock Car driver for over 2o years in the NASCAR Busch Series and Craftsman Truck Tours.
Matt continues to see that his successful Eagle Creek Aviation is even more successful. In November 2021, Eagle Creek Aviation and its related companies merged with Jet Access. Matt serves on the Board of the new Indianapolis-based company, which features 380 employees, more than 50 aircraft, 100 pilots and 75 aircraft technicians and is now the 10th largest Part-135 private jet operator in the United States.