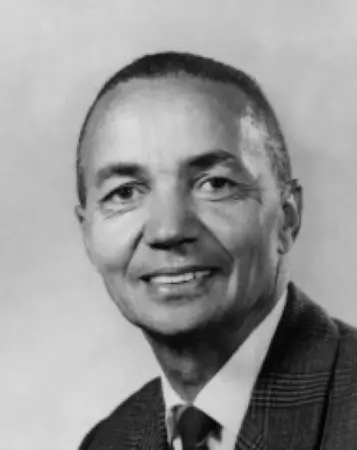 Born in December 1912 in the Northeast Indiana town of Angola, Lewis Jackson was always passionate about airplanes- first building model planes as a small child and then reading about them as he grew older. At 15, he took his first flight. Soon after, he designed and flew his own hang gliders. Then, he purchased an incomplete Alco Sport to which he attached a motorcycle engine. Unfortunately, a windstorm destroyed it before he could fly it, but he never let that dampen his inventive spirit.
In 1930, Lewis began formal flight instruction using several aircraft, including a Curtiss Jenny. When a nearby college denied his admission, he used his college money to buy a depression-era, bargain priced plane, and then soloed in his own Waco. Still wanting a higher education, he earned money for college by barnstorming, performing aeronautical stunts, and flying exhibitions. In 1939, Jackson received a Bachelor of Science degree in Education-his second passion- from Marion College, now Indiana Wesleyan University.
After completing courses in advanced aeronautics and flight mechanics, Lewis Jackson moved to Tuskegee University. He became the Army Air Corps' Director of Flight Training for the black aviators who would soon be known as The Tuskegee Airmen- the famed Red Tails.
Accepting only the highest standards of performance, on three different occasions, his students ranked first when compared to the other schools in the Army Training Command.
After the war, Jackson moved to Ohio, first teaching at Wilberforce College and then at Central State University. As an FAA Flight Examiner, he tested over 400 pilots. As an inventor, he created an aircraft computer program called "NAV-KIT" to help pilots pass their instrument tests.
After obtaining a master's degree from Miami University in Ohio, Lewis Jackson earned a Ph.D. in Higher Education from Ohio State. True to his love of aviation, Dr. Jackson's PhD. dissertation was titled, "A Study of Aviation Courses and Facilities in Higher Education in the United States with Predictions and Future Trends."
Eventually, Dr. Jackson became president of Central State University and then Sinclair Community College in Dayton. It was at Sinclair that he fostered their business entrepreneur program.
Beyond educating students and training pilots, "an airplane in every garage" was one of Dr. Jackson's lifelong goals. He was always working on a roadable airplane for the common man- an airplane that could be stored at home and towed or driven to the airport.
In the early 1960's, Dr. Jackson created and flew his 10th and final experimental plane. This one folded its wings for land travel and was featured in Jane's All the World's Aircraft.
Dr. Jackson served on the FAA Citizens Advisory Committee, the Xenia Development Corporation Board of Directors, and the Greene County Aviation Board. In Dr. Jackson's honor, the airport outside Xenia, Ohio is named The Greene County – Lewis A. Jackson Regional Airport.
The main Library at Indiana Wesleyan University, his alma mater, is named the Lewis A. Jackson Library.