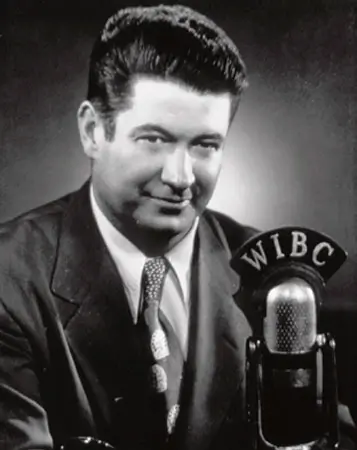 Gordon Graham was born in Geneva, Indiana, in 1915. He was introduced to the world of aviation as a teen when he worked and flew at Bendix Field in South Bend, Indiana.
Aviation was not to be his life's work, however. Gordon's sonorous voice and outgoing personality made him a perfect fit for the world of broadcasting. It was from that profession that Gordon would make his mark on Indiana aviation history.
After studying at Miami University, Gordon worked as a radio newsman at stations in Ohio and Alaska.  In 1939, he landed at WLBC in Muncie where his voice first became known to Indiana residents. Gordon used radio to introduce and promote aviation whenever he could.
In 1943, Gordon worked for WLW of Cincinnati in its Washington news bureau. From there he freelanced for various stations and the new DuMont Television Network.
In 1946, Graham returned to Indiana as news director for WIBC before moving back into television as news director and anchor for a local station where he remained until 1959. Various broadcasting jobs in New York followed. But in 1968 Gordon again found himself in Indiana working as a free-lance TV film producer of documentaries. He would also work as president of Hendricks County Broadcasting, news director for WGRT-FM, Danville, and as a lecturer at Indiana University.
The late 50's found Gordon rekindling his interest in aviation. Anxious to remain an active pilot and to promote flying, he owned more than one at the same time. He had the call letters of WLW-I painted on one of his planes and traveled to nearly every airport in the state where he would interview local pilots and airport operators for "General Aviation in Indiana," a program he produced each Saturday morning for many years.
The Indiana Aviation Department and the State Aviation Association took note of Gordon's work and established the "Hoosier Aviator of the Year" award with Gordon Graham as its first recipient in 1957.  He was later inducted into the Indiana Association of Broadcasters' Hall of Fame.
Flying was Gordon's passion. His promotion of aviation touched his fellow Hoosiers and his family.  His son, Jim Graham, served as a naval aviator. To celebrate his son's entry into naval flight school, Gordon flew a 145-horsepower Swift from Indianapolis to Pensacola. Appropriately, Gordon also flew a Piper Tri-Pacer from Indianapolis to Corpus Christi, Texas to witness Jim Graham's graduation as a naval aviator.
Gordon's long career as a respected broadcaster matched his love of flying. In a fitting tribute to his efforts to promote aviation in Indiana, the newest Indiana airport, located in Hendricks County, bears the name Gordon Graham Field.
For his enduring contributions to growth, vitality, and history of aviation in Indiana, Gordon Graham is inducted into the Aviation Hall of Fame.