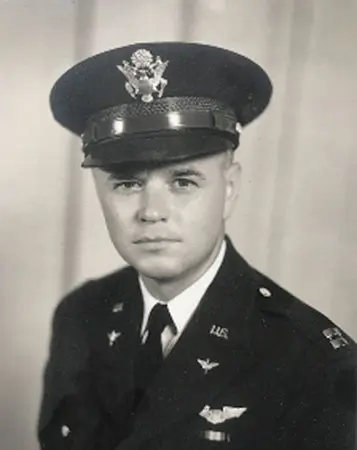 Born at the close of the 19th century, Clarence Cornish caught the aviation "bug" in 1910 when he visited a flying exhibition by aviation pioneer Glenn Curtis in his hometown of Ft. Wayne.
Clarence learned Morse code in his youth. He put that talent to good use when he volunteered to serve in World War I and was assigned US Army Signal Corps and to learn to fly. Ordered to join Squadron "H" in Millington, Tennessee, Clarence soloed a Curtiss JN Jenny after just 4 hours. After serving honorably, Clarence joined 8,000 other pilots looking for work or new adventures after the war. He remained in the Army Reserve and combined his military and civilian flying.
Clarence's career was all about flying. After WW I he remained in the Army Reserve and combined his military and civilian flying by flying charter in Ft. Wayne, Clarence sought more exciting avenues for his passion and soon branched out as a stunt pilot and air racer. He helped found Indiana's first approved flight school as well as an air freight operation, and later became chief pilot for a local corporation. He was named manager of the Paul Baer Airport and earned the All-Indiana Air Safety Trophy.
As World War II loomed in May 1941, Clarence was recalled to active duty and assigned to Barksdale Army Air base to train as a bomber pilot.  But the Army would recognize his other talents as a solution to a pressing problem for the nation. War activity meant much more civilian and military aircraft competing for airspace over the United States. And the attack on Pearl Harbor made the public wary of any aircraft overhead. That made communicating with and coordinating aircraft and air traffic a critical need. Clarence was assigned as the operations leader for the nation's Air Traffic Control Board which controlled the nation's busy skies. He was also tasked to establish the new U.S. Navy Training base at Bunker Hill near Peru Indiana.
After WWII, Clarence's success at coordinating the air traffic and creating new military bases did not go unnoticed. He was named the first Director of the new Indiana Aeronautics Commission where one of his first projects was the establishment of ground-based navigation aids for pilots. He also worked to establish an airport in every Indiana county and even flew across the state promoting aviation and urging local communities to develop airports. To that end, Clearance brought teachers to airports for introductory flights and workshops on how to incorporate aviation into classroom subjects.  His work was led his election as president of the National Association of State Aviation Officials.
After leaving the Aeronautics Commission, Clarence never lost his love for flying. Every year, Cap would rent an airplane for a flight around Indianapolis.  That annual tradition continued for many years, and on December 4, 1995, Clarence Cornish entered the Guinness Book of World Records as the World's Oldest Active Pilot. He passed away a few days later at the age of 97 having made his indelible mark on the first century of flight.
For his enduring and significant contributions to aviation history in Indiana and the World, Clarence Cornish has earned his place in the Indiana Aviation Hall of Fame.