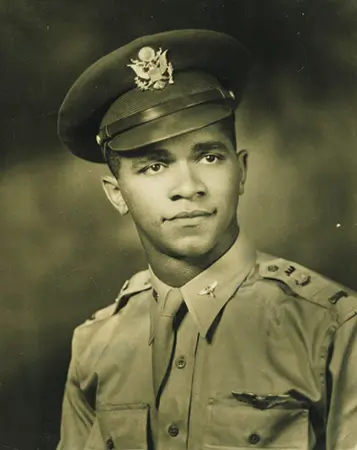 Charles Henry DeBow, Jr. was born in Indianapolis, Indiana on February 13, 1918. His humble beginnings, and the values and faith he learned from his parents and the lectures and work of prominent black pastors, scholars, and visionaries at the Senate Avenue YMCA in Indianapolis inspired faith, determination, leadership, and the enduring legacy he leaves behind.
His influences foretold a life of inspired leadership and accomplishment. That journey of leadership began at the segregated Crispus Attucks High School in Indianapolis where he excelled as an honor student, Student Council President, and cadet major commanding the ROTC program.
After high school graduation, Charles pursued a pre-med education at Indiana University. Soon, however, he changed his mind and transferred to Hampton Institute to pursue a degree in business. It was at Hampton that flying began to influence his life. When President Roosevelt unveiled the Civilian Pilot Training Program with the goal of training thousands of pilots without "account of race, creed, or color," Clarence volunteered. He was to become only one of the 20 students selected out of 300 applicants to train as a pilot. True to form, he earned his pilot's license before the end of the semester.
Charles dropped out of Hampton University to serve his country and enlist in the U.S. Army. When the Army began accepting applications for a military pilot training program, Charles answered the call to become the first black applicant to pass the Air Corp's rigorous physical exam for enlistment as an Aviation Cadet.
He was ordered to join the first class of pilot trainees at the Tuskegee Institute in Alabama. Despite the many challenges and obstacles, Charles knew that he and his fellow cadets had a "double duty – to our country and to our race." On March 7, 1942, Charles Debow secured his place in aviation history when he joined just four other black pilots — of the original 13 cadet aviation candidates — to earn wings as Tuskegee Airmen.
His first military assignment was to teach and inspire other pilots as an advanced flight instructor of Tuskegee Airmen. Quickly advancing in rank, Charles assumed command of the 301st Fighter Squadron in 1943.  In 1944, his squadron deployed to Italy as one of the four African American fighter squadrons to enter combat in World War II. Under his command, the 301st earned a Distinguished Unit Citation.
Charles DeBow became a distinguished combat pilot flying 52 combat missions in the European Theater, including action on D-Day.  As one of the pioneering "Red Tails," he was in the elite company of 450 Tuskegee Airmen who battled bigotry, segregation, and the Axis powers while flying 1,378 combat missions, destroying 260 enemy planes, and earning over 150 Flying Cross medals and numerous other awards. 
After serving honorably in the European Theater, Charles returned to Tuskegee Army Air Field as a decorated combat veteran to prepare the next generation of black airmen for combat. 
After World War II, DeBow continued in the Air Force Reserve stationed at Atterbury Air Force Base in Columbus, Indiana. He remained in the Air Force Reserve for the 20 years.
Charles also became a civic leader in Indianapolis, inspiring others as a teacher and as a fighter of racism. Like those who had inspired him at the Senate Avenue YMCA as a youth, he mentored and taught black students as a science teacher at the segregated John Hope School in Indianapolis. He earned master's degrees from both Butler University and Indiana University.  In 1955, Charles was selected to pioneer a racial integration plan as the only black educator on the faculty at Thomas Carr Howe High School while also teaching English at his alma mater, Crispus Attucks, in night school classes.
His selfless service to the country and aviation did not abate. When the new U.S. Air Force Academy began to accept black applicants in 1959, Charles DeBow was an Admissions Liaison Officer helping to recruit and mentor diverse candidates for the academy.  In the 1970's, Charles was an equal opportunity employment specialist for the U.S. Department of Labor managing an innovative program for minority youth employment called the Neighborhood Youth Corps. He retired from the Air Force as a Lieutenant Colonel and spent the rest of his life as an adjunct professor in English at Indiana University Purdue University Indianapolis until his death in 1986.
For his brave, pioneering aviation career, selfless service to the nation, and life-long contributions to his community, and to Indiana and world aviation history, Charles DeBow Jr. is inducted as a Member of the Indiana Aviation Hall of Fame.